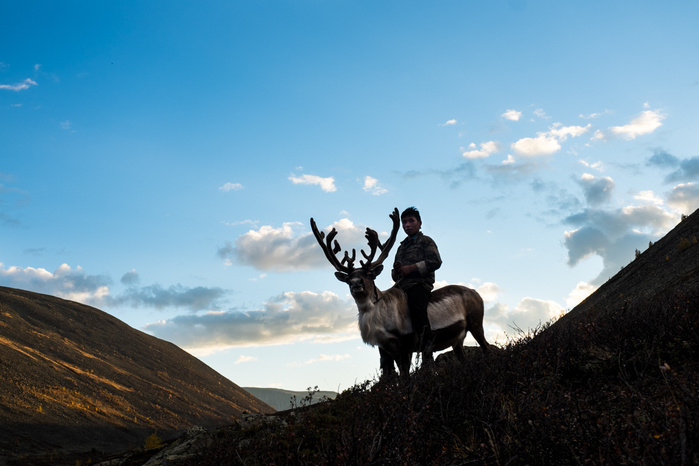 Those who have Reindeer
Life flows at a different rhythm in the Taiga forest region in the North of Mongolia, home to the Tsaatan Nomads. It was a feeling of intensity in a place of survival - quiet and beautiful - yet lethal for those who don't know their ways in this savage territory. As winter was drawing closer, a Nomadic family of eight, was starting to prepare the move to their winter camp, where they'd be facing temperatures as low as -50º Celsius.
These followers of Shamanism have a very deep understanding for nature as it provides them food, shelter and warmth. This philosophy of life, is not only encrypted in their DNA, but also reflects on the relationship they have with their livestock - the reindeer. Similar to other nomadic tribes, the interdependency with those animals, which are treated as a part of their family, shape and influence their daily lives. These reindeers play a significant role to the Nomad's survival. Their milk is used in several dairy products, essential to their daily diet. They serve as a means of transportation as well as a source of trade not only for their meat, but also for their skin and antlers.
Today, these Nomads and their animals are facing serious challenges on various fronts. External factors are forcing them to adjust to those changes that are reshaping their lives.
When the home of the Tsaatan Nomads was declared a National Park in 2013, they had to adapt to new conditions. Undoubtedly, it has helped to protect and preserve the area, but their search for food has become more difficult with the imposition of a hunting ban. Consequences are, that if caught hunting, they risk high fines, which even lead to imprisonment. With their diet mainly consisting of meat and milk, their alternative food source is to sacrifice their own reindeer, having to kill yearly over 15% of their animals, thus dramatically decreasing their livestock on which their life depends.
On top of this, the effects of last decade's climate change have impacted both nomads and reindeers. The rising temperatures of the summers lead to more illnesses and infections of the animals, of which some ultimately lose the fight. Winter is the most propitious season for the reindeers, but year after year winters have become even colder making life conditions harsher for the nomads.
Despite living in one of the most isolated places on earth, modern technology has also caught up with the secluded Tsaatan Nomads. The power generated by their solar panels enables them access to light, telephones, television and satellite dishes, which has undoubtedly changed their lives by bringing them closer to the outside fast-moving world. The hard life they currently have and the projected comfort that cities offer, are making Tsaatan parents send some of their children to the city for their education, unaware that the urban centers are just as lethal as the Taiga forests are to the inexperienced. Eventually, younger generations leaving behind their tribes, will extinct their ancestors' nomadic practices.
Scattered in their seasonal camps, in one of the toughest environments on earth to live, the last 35 remaining nomadic families, have set a bar difficult to surpass; one that brings an example of living sustainably, proving respect for nature and embracing a conscious lifestyle.